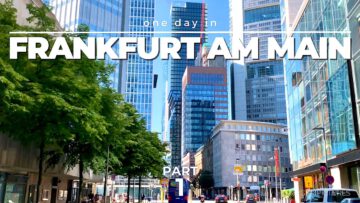 Welcome to the most international city in Germany, the largest financial centre on the continent, the historical city of coronations...
Again, for the second time, welcome to Frankfurt am Main, the metropolis in miniature, the city I've been living since 1998 an...
When you think about travel destinations in Poland, this city should be on your radar: Wrocław. Despite the fact that Wrocław is the...
Let us walk around in Frankfurt am Main and see some of the best views of this city with Germany's most imposing skyline. I've...
With this video I would like to introduce the city where I was born: Limburg an der Lahn (Limburg on the river Lahn). Limburg an der...
Valletta, the capital of the Republic of Malta, is one of my favourite cities in Europe. The entire city was designated a UNESCO Wor...
Łódź, located in the centre of Poland and about 130 km southwest of the capital Warsaw, is not only the third largest city in the co...
Welcome to Toruń, one of the oldest and most beautiful cities in Poland. Toruń was founded in the 13th century on the Wisła (Vistula...
Warsaw is the capital of Poland and, with around 1.8 million inhabitants and an area of 500 square kilometres, the largest and most...
After my first One Day in Frankfurt am Main video, which I have had released here on my YouTube channel in December 2019, I have rec...